News
Summer 2022 at KYOCERA Tikitin
23.09.2022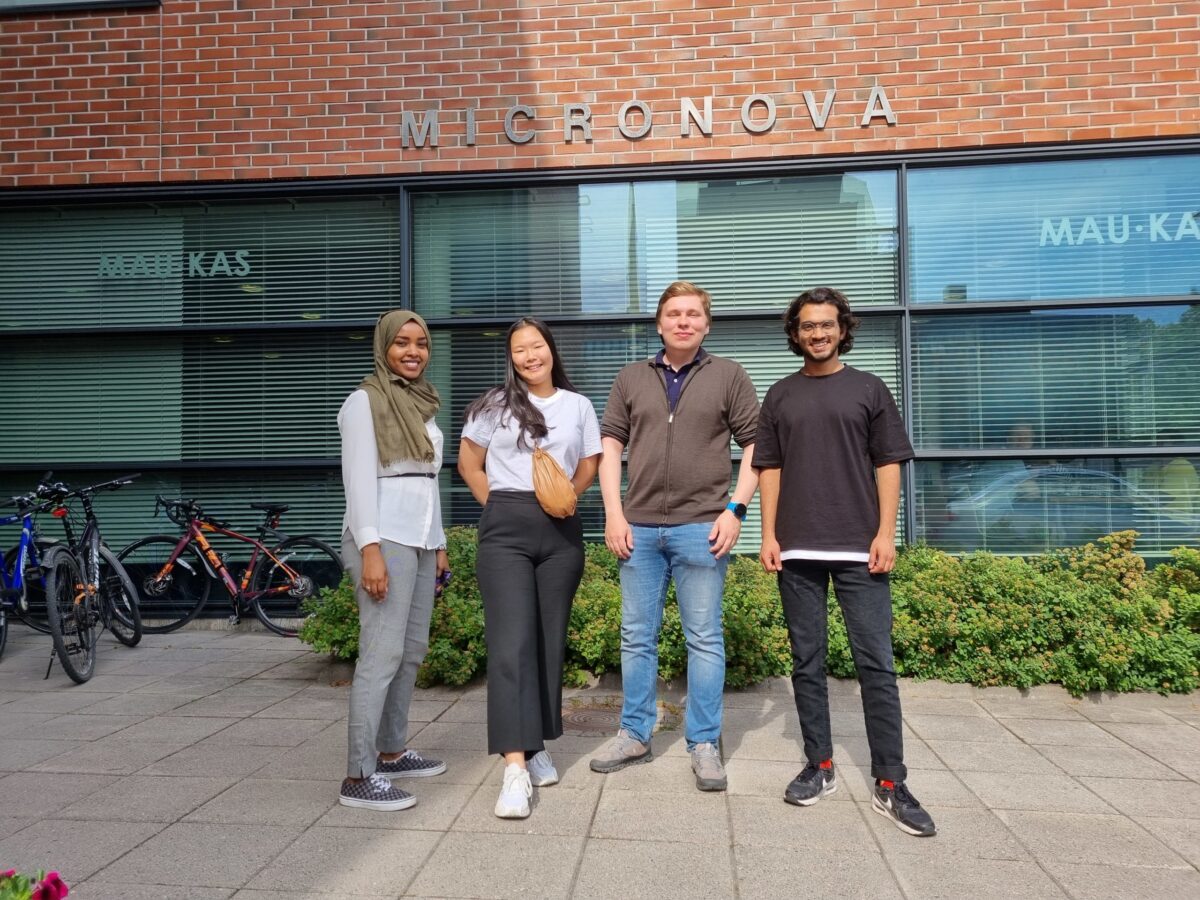 This year four future professionals stepped into the world of Kyocera Tikitin and microelectromechanical systems (MEMS) – Wenli Fu, Arsam Ali, Alaa Mahmoud, and Urho Koljonen, who has been working for Kyocera Tikitin for the past three summers.
The summer was filled with learning, developing, and impacting the future. The bright-minded stars wanted to see if MEMS and process development is the career opportunity for them.
Master's students seeking knowledge
The summer trainees, all master's students at Aalto University, brought lots of new perspectives, ideas, and energy to Kyocera Tikitin this summer. The trainees wanted to gain knowledge of the MEMS development process and test their skills in action.
"I wanted to work with Kyocera Tikitin, because I saw an exciting opportunity to apply my education in practice and gain more experience in R&D and MEMS manufacturing processes. I had prior working experience in silicon wafers and the position matched my career interests as I wanted to be a part of a world-class MEMS team", a Biomedical Engineering student Wenli Fu tells.
During the traineeship, Wenli Fu also got something more than she could think of before joining the cross-team collaborating working environment.
"During this summer, I deepened my knowledge in developing new testing methods and testing different parameters and features of the products, which was something I was looking for in the first place, but I also got to improve my teamwork and communication skills, thanks to the team."
Aligned goals meeting at Kyocera Tikitin
Arsam Ali, a joint International Master's Student in Smart Systems Integrated Solutions, found himself working in the Design Team this summer.
"Since the start of my master's program, I wanted to get into the field of MEMS design. I researched Kyocera Tikitin and learned that the company was currently in the R&D phase for its MEMS resonator products. As my interests and goals were aligned with the company's objectives, I went for it", Arsam Ali explains.
Arsam Ali wanted to explore his abilities and work on his capacity building by applying for the job position. On the other hand, he expected to work with an appropriate work-life balance in a nourishing work environment. Kyocera Tikitin checked all the boxes.
"My summer job involved working with the concepts of multi-physics and programming and formed a bridge between my theoretical knowledge and practical experience. I got involved with developing a tool identifying the design and process variations window. I can truly say that I found Kyocera Tikitin to be exactly what I was hoping for."
Hands-on experience and actual implementation of studies
Alaa Mahmoud, an electrical engineering student, worked with Automated Optical Inspection this summer at Kyocera Tikitin. Before joining the team, she wanted to see how her ideas and knowledge correlate with modern work life.
At Kyocera Tikitin, every summer trainee gets real tasks to work with and is given the opportunity to implement what they have learned during their studies.
"By the end of my first master's year at Aalto University, I needed an experience that would keep me updated with what's happening in the industry and that would combine my previous experiences and current studies", Alaa Mahmoud says.
Urho Koljonen studies Engineering Physics at Aalto University and has been working on the same AOI project as Alaa, making sure that the machine functions nicely. Urho is a three-time summer trainee at Kyocera Tikitin and shares Alaa's thoughts.
"Working at Kyocera Tikitin has been rewarding as my job has been a little different every summer. For example, last year I was working with the limit values of the production machinery so that everything should be value-wise ready for the production ramp-up. The time has moved on, as has Kyocera Tikitin's product development and this summer I got to do a lot more programming than the previous summers", Urho, who is focusing on data analysis also in their upcoming master's thesis, reviews.
Kyocera Tikitin has enabled all summer trainees to get hands-on experience helping them in their studies and giving insights into work life in Finland. The experience has been highly valuable, educational, and useful for all four students.
"Good cross-team collaboration is important at Kyocera Tikitin and during the summer I got to enhance my skills for example in providing information to other teams. In general, I learned more about the semiconductor industry, especially the MEMS resonator technology and processing", Wenli Fu tells and gives kudos to colleagues.
Great working culture and diverse experts working for the same goal
All trainees came across Kyocera Tikitin's summer positions via LinkedIn. For some, the company has been on their radar for a long time, but for some, it was the first time. The experiences have been astonishingly good.
"I didn't know Kyocera Tikitin before I saw the job on LinkedIn. After joining the team, I was pleased to experience a healthy working environment with competent and cooperative teams", Alaa Mahmoud reviews her summer.
The other summer trainees also praised the culture at Kyocera Tikitin. They felt pleased about the easy-going and welcoming culture where everyone got to meet and see the diversity of backgrounds and experiences.
"The culture is diversely suitable for different people from all over the world and the premises for a successful summer traineeship are on point", Alaa, Arsam, Urho, and Wenli all agree.
"Kyocera Tikitin has all the ingredients to be called a wholesome workplace. The company is moving towards mass production and the working pace is good. The experience can be fruitful for the professional development of the newcomers", Arsam Ali tells enthusiastically and encourages other future professionals to eagerly seek positions outside their comfort zone revealing that Kyocera Tikitin is a great place to develop and thrive.
The experienced summer trainee Urho Koljonen sums up the thoughts of all summer trainees well: "Kyocera Tikitin has a very friendly working atmosphere. You can always get help by asking. In addition, the co-workers are all very competent and most of them have many years of experience in the field. You can learn a lot about the secrets of the industry from them."